Are you in the market for a concealed carry purse but you are having trouble finding one that meets your needs? If so, then you have come to the right place. Today, we are going to learn more about the best places to find CCW bags and purses that are all made from high-quality materials.
You might be asking yourself why should you be spending your hard earned money at WeSellDirect? The truth is there are several benefits of shopping at this amazing website that you will learn more about below. You just might be surprise of all the things we have to offer you!
True Value
One of the first things you will notice when you come to our website is our highly affordable prices. We strive to bring you the top deals without ever sacrificing the quality of our merchandise. We work directly with manufacturers to bring you the best possible price. This is why so many people love to shop here! We offer only the best-concealed carry purses and we would never bring in products that are low quality. Everything that we sell on our website is carefully inspected to ensure that it meets the needs of our customers.
A Wide Selection
Here at WeSellDirect, we are proud to offer a wide selection of CCW bags to meet your busy needs. We have over 75 different types of conceal carry bags all with their own unique design and function. In addition to purses, we also have some of the best CCW bags ever produced. So no matter what type of concealed carry bag you are looking for, we have you covered. We are your one stop CCW bag and purse shop!
Amazing Customer Service
When you purchase a concealed carry purse from WeSellDirect, you can rest assure knowing that you are in good hands. Shopping is made easy here and you will always find what you need. But if you ever do run into trouble while trying to find the best concealed carry purse, you can quickly get help. Need advice choosing the right purse for your particular needs? Simply give us a call or drop us an email and we would be glad to help! Additionally, if you have any questions about other products sold on our site, please feel free to ask. Our staff is highly knowledgeable about the products we sell and can answer any questions that you may have.
Fast Shipping
We know that getting the products you ordered as quickly as possible is very important. This is why we work hard to get your order on its way within a few working days. Once you place an order with WeSellDirect, we immediately put it in our system and start the process. This means that your purse or bag will be delivered in a timely manner. If you ever have a shipping issue or have not received your item on time, just give us a call and we will get to the bottom of things.
You Can Shop From Anywhere
Another great reason for shopping with us is that you can purchase items no matter where you are. Day or night, you can shop here at WeSellDirect and have your purchase quickly shipped to your door. We offer some of the best shipping rates and the most affordable products around. So if you are a late-night shopper or you like to wake up early to make your purchases, you will always find that we are open and ready for you! Best of all, you never have to deal with standing in line at the checkout or fighting the crowds as you do at a traditional brick and mortar store. We offer convenient shopping from the comfort of your own home.
Now that you know more about WeSellDirect and all that it has to offer on this fine website, why not stop by today? No matter what size or style concealed carry purse you are looking for, you can find it here! Best of all, you will be getting the deepest discounts on some of the most well made CCW bags around. So what are you waiting for you? Start shopping now!
Helpful Information
SEXUAL VIOLENCE
by National Organization for Women.
According to the National Crime Victimization Survey, which includes crimes that were not reported to the police, 232,960 women in the U.S. were raped or sexually assaulted in 2006. That's more than 600 women every day.6 Other estimates, such as those generated by the FBI, are much lower because they rely on data from law enforcement agencies. A significant number of crimes are never even reported for reasons that include the victim's feeling that nothing can/will be done and the personal nature of the incident.7
RESOURCES
1Bureau of Justice Statistics, Intimate Homicide Victims by Gender
2Bureau of Justice Statistics, There has been a decline in homicide of intimates, especially male victims
3Deptartment of Justice, About Domestic Violence
4Centers for Disease Control and Prevention (CDC), Understanding
Intimate Partner Violence (PDF)
5National Coalition Against Domestic Violence (NCADV), Domestic Violence Facts (PDF)
6Bureau of Justice Statistics (table 2, page 15), Criminal Victimization in the United States, 2006 Statistical Tables
7US Census Bureau (page 12), National Crime Victimization Survey (PDF)
8Bureau of Justice Statistics, Victim Characteristics: Age
9Bureau of Justice Statistics (table 4, page 17) Criminal Victimization in the United States, 2006 Statistical Tables (PDF)
10National Institute of Justice (pages 6-7), Sexual Assault on Campus: What Colleges and Universities Are Doing About It (PDF)
11Bureau of Justice Statistics, Intimate Partner Violence in the U.S.:
Victims
12Bureau of Justice Statistics, Victim Characteristics: Race
13Family Violence Prevention Fund, The Facts on Children and Domestic Violence
14CDC, Understanding
Intimate Partner Violence (PDF)
15NOW, The Violence Against Women Act: Celebrating 10 Years of Prevention
16University of North Carolina, Analyses of Violence Against Women Act suggest legislation saved U.S. $14.8 billion
17NCADV, Comparison of VAWA 1994, VAWA 2000 and VAWA 2005
Reauthorization Bill (PDF)
18National Coalition of Anti-Violence Programs (NCAVP), Lesbian, Gay, Bisexual, and Transgender Domestic Violence In the United States in 2007 (PDF)
19NCAVP, Lesbian, Gay, Bisexual, and Transgender Domestic Violence In the United States in 2007 (PDF)
Here are seven ways that female and male gun owners compare, based on a recent Pew Research Center survey of 1,269 gun owners.
1 Women who own guns tend to become gun owners at a later age than men. On average, women who own a gun or have owned one in the past report that they first got their own gun when they were 27 years old, compared with an average of 19 for men who own or have owned guns.
2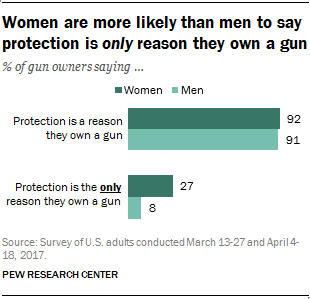 Women are more likely than men to cite protection – rather than recreation – as the only reason they own a gun. Male and female gun owners are about equally likely to cite protection as a reason why they own guns: About nine-in-ten in each group say this is a reason, and 65% and 71%, respectively, say it is a major reason. But far larger shares of women than men who own guns say protection is the only reason they own a gun: About a quarter of women who own guns (27%) are in this category, compared with just 8% of men.
3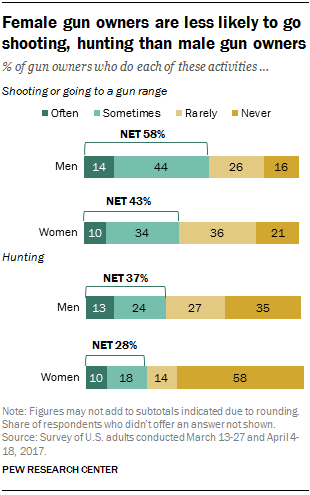 Women who own guns are less likely than their male counterparts to say they go sport shooting or hunting, though substantial shares of women do so. About four-in-ten female gun owners (43%) say they go shooting or to a gun range often or sometimes; 58% of men who own guns say the same. And while 37% of male gun owners say they go hunting at least sometimes, 28% of women who own guns do so.
The differences between male and female gun owners when it comes to participating in hunting or shooting are linked, at least in part, to early exposure to these types of activities. Among current gun owners, 52% of men say they went hunting and 46% say they went shooting at least sometimes when they were growing up, compared with about a quarter of women (23%) who say they participated in each of these activities when they were young. The gaps in the shares of men and women who now go hunting or shooting virtually disappear when those who did and did not hunt or shoot growing up are considered separately.
4 Female gun owners are less likely than male gun owners to say they watch TV programs or videos about guns and to say they visit websites about guns, hunting or shooting sports. A third of women gun owners (33%) say they often or sometimes watch TV shows or videos about guns, compared with 43% of men who own guns. And 28% of women who own guns say they visit websites about guns, hunting or shooting sports, compared with 39% of male gun owners. Female gun owners are also less likely to be in a social group where gun ownership is the norm. Four-in-ten women who own guns say all or most of their friends also own guns, compared with 54% of male gun owners who say all or most of their friends do.
5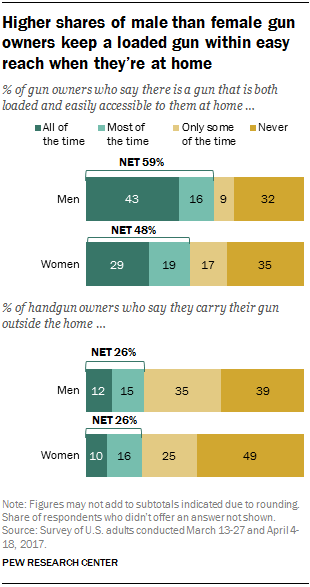 Male gun owners are more likely than female gun owners to say there is a gun that is both loaded and easily accessible to them all of the time when they're at home. Some 43% of men who own guns say this is the case, compared with 29% of women gun owners. However, among those who own handguns, equal shares of men and women (26% each) say they carry their gun outside their home all or most of the time.
6Men and women who own guns are similar when it comes to how they see gun ownership. Majorities of both groups of gun owners consider the right to own guns to be essential to their personal sense of freedom (70% of women and 77% of men), and somewhat similar shares say being a gun owner is very or somewhat important to their overall identity (46% and 52%, respectively). On each of these questions, the differences between men and women are not statistically significant.
7
Among Republican and Republican-leaning gun owners, women tend to be more supportive than men of policy proposals that would restrict gun ownership. When it comes to gun policy, female gun owners express more support than male gun owners for proposals that would restrict gun ownership and less support for proposals that would expand it. These differences primarily reflect a gender gap among Republican and Republican-leaning gun owners.
For example, about six-in-ten Republican and Republican-leaning women who own guns say they would favor banning assault-style weapons (60%) and creating a federal government database to track all gun sales (57%). In contrast, about a third or less of Republican men who own guns express support for each of these proposals (28% and 35%, respectively).
In turn, Republican and Republican-leaning men who own guns are more likely than their female counterparts to favor shortening waiting periods for legal gun sales (68% vs. 46%, respectively) and allowing people to carry concealed guns without a permit (52% vs. 24%). Among Democratic and Democratic-leaning gun owners, similar shares of men and women express support for each of these proposals.
History of concealed carry in the U.S.
From Wikipedia,
The history of concealed carry in the United States is the evolution of public opinion, policy, and law regarding the practice of carrying concealed firearms, especially revolvers and semi-automatic pistols.

Public perception on concealed carry vs. open carry has largely flipped. In the early days of the United States, the open carrying of firearms, long guns and revolvers was a common and well-accepted practice. Seeing guns carried openly was not considered to be any cause for alarm. Therefore, anyone who would carry a firearm but attempt to conceal it was considered to have something to hide and presumed to be a criminal. For this reason, concealed carry was denounced as a detestable practice in the early days of the United States.

Top 10 Concealed Carry Mistakes,

As time went on, however, fewer people carried weapons openly. Today, open carry of firearms, even where explicitly legal, can cause alarm, depending on the location. Further, partly because of the ongoing debate about best public safety practices, it is often assumed that those who would practice open carry are attempting to cause an uproar or to invite criticism and debate in the streets. In addition, much advice about defensive tactics points out that, since it is relatively easy to strip a firearm and use it against its owner, firearms carried solely for defense ought to be carried concealed where no one would know that they existed unless the owner had good cause and justification to draw it.

Early bans

The Second Amendment to the United States Constitution guarantees the right to "keep and bear arms". Although District of Columbia v. Heller (2008) decided that this applied to an individual right to arm in defense of oneself, whether the Second Amendment truly grants an individual right, or the right of each of the several States to have a militia composed of citizens (i.e. today's National Guard) remains an issue of public debate. However, the constitutions of 31 states expressly protect an individual right to keep and bear arms (Alabama, Alaska, Arizona, Colorado, Connecticut, Delaware, Florida, Illinois, Indiana, Kentucky, Louisiana, Maine, Michigan, Mississippi, Missouri, Montana, Nebraska, Nevada, New Hampshire, New Mexico, North Dakota, Oklahoma, Oregon, Pennsylvania, South Dakota, Texas Utah, Vermont, Washington, West Virginia, and Wyoming). Case law in 8 other states (Arkansas, Georgia, Idaho, Ohio, Rhode Island, South Carolina, Tennessee, and Wisconsin) protects the individual right, making a total of 39 states that expressly protect an individual right to keep and bear arms. However, the constitutions of Missouri (1875), North Carolina (1875), Colorado (1876), Montana (1889), and New Mexico (1912) explicitly prohibit concealed carry. Further, the constitutions of Kentucky (1850), Louisiana (1879), Mississippi (1890) and Idaho (1978) permit their respective Legislatures to regulate or prohibit concealed carry. This is because concealing weapons used to be thought of as a practice done exclusively by criminals.
Constitutional carry
In the United States, the term constitutional carry, also called permitless carry,[1] unrestricted carry,[2] or Vermont carry,[3] refers to the legal carrying of a handgun, either openly or concealed, without a license or permit.[4][5][3] The phrase does not typically refer to the unrestricted carrying of a long gun, a knife, or other weapons. The scope and applicability of constitutional carry may vary by state.[6]
The Second Amendment: Firearms in the U.S. | History
The phrase "constitutional carry" reflects the view that the Second Amendment to the U.S. Constitution does not abide restrictions on gun rights, including the right to carry or "bear" arms.
The U.S. Supreme Court (SCOTUS) had never extensively interpreted the Second Amendment until the landmark case District of Columbia v. Heller in 2008.[7] Prior to this, a tapestry of different and sometimes conflicting laws about carrying firearms developed across the nation.[8] In deciding the case, the Court found that self-defense was a "…central component of the 2nd Amendment" and D.C.'s handgun ban was invalidated. The Court further suggested that some state or local gun controls may be allowed. The Heller case was extended by SCOTUS in the 2010 decision McDonald v. Chicago, which held that the 2nd and 14th Amendments to the U.S. Constitution were "fully incorporated" and thus the right to "…keep and bear arms applies to the states and not 'in a watered-down version' but 'fully applicable'…," and limits state and local governments in passing laws that restrict this "individual" and "fundamental" right to "…keep and bear arms," for self-defense.
All of the state laws described below operate in the context of federal regulation regarding the transfer and sale of firearms. Firearms and ammunition are subject to taxation as well.